Spektrum Autyzmu Pro eduSensus – nowość
---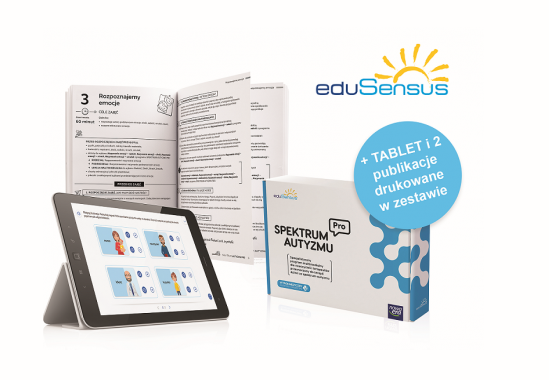 Szanowni Państwo,
Z przyjemnością informujemy, iż wprowadziliśmy do swojej oferty długo oczekiwany program Spektrum Autyzmu Pro – eduSensus.
Jest to specjalistyczny program multimedialny dla nauczycieli i terapeutów przeznaczony do terapii dzieci ze spektrum autyzmu, w wieku przedszkolnym i szkolnym jako:
wsparcie rozwoju kompetencji emocjonalno-społecznych i komunikacyjnych u dzieci ze spektrum autyzmu,
narzędzie w pracy terapeutycznej ze wszystkimi dziećmi, u których występują trudne zachowania.
SPEKTRUM AUTYZMU PRO to pierwszy na rynku multimedialny program do pracy z dziećmi ze spektrum autyzmu mający status wyrobu medycznego i udowodnioną w opinii klinicznej skuteczność. 
Przeznaczony jest do pracy indywidualnej i w małych grupach na zajęciach terapeutycznych, rewalidacyjnych oraz dydaktycznych.
Program dostępny jest na naszym sklepie pod adresem:
https://swiatprogramow.pl/spektrum-autyzmu-pro-edusensus-2021.html
W przypadku jakichkolwiek pytań nasi konsultanci są do Państwa dyspozycji pod nr tel.228641313 lub mailowo bodydho@dho.com.pl.